Management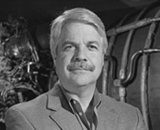 TERRY MURPHY
President and Chief Executive Officer
Terry Murphy brings over 30 years experience in executive leadership and program management expertise to Persu. Mr. Murphy has held senior executive positions at United Technologies and the Boeing Company where his business units leveraged aerospace technologies into clean and renewable energy projects. His organization redesigned and improved the reliability of gas turbines, drastically increased the capital efficiency of coal gasification systems and developed a commercially viable, utility scale, concentrated solar power plant with molten salt energy storage.


In 2007, with initial venture capital from US Renewables Group, Mr. Murphy licensed this solar capability from United Technologies and became the founding CEO of SolarReserve. The company closed an additional $140 million Series B round during their first year of operations and has since secured over $2 billion in power purchase agreements. In addition to these highly successful commercial endeavors, Mr. Murphy has established a distinguished career in capturing and managing large scale programs across a myriad of governmental agencies. Mr. Murphy was the senior executive at Rocketdyne on deep space power systems for the Department of Energy and spearheaded the capture of several other large scale development programs for the Air Force, NASA and DARPA. Mr. Murphy is a recipient of the Astronauts' personal achievement award (Silver Snoopy) for his work on the Space Shuttle Main Engine, is on the Board of Directors for General Compression and has extensive international experience.


Mr. Murphy earned a Bachelor of Science in Aeronautical and Astronautical Engineering from Purdue University and was honored in 2005 with their Outstanding Engineering Award. He also earned a Master of Science in Systems Management from the University of Southern California, is an Associate Fellow of the AIAA and has authored several patents relating to propulsion and power applications.